New MVP Joel Embiid says he's 'possible' for Game 2 in Boston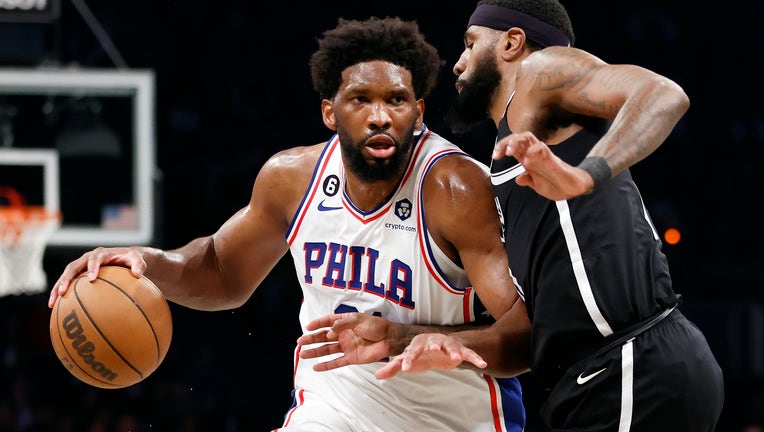 article
PHILADELPHIA - Joel Embiid is reportedly set to return to the court for the 76ers Eastern Conference Semifinal matchup with the Boston Celtics Wednesday. 
Embiid, who was named the NBA's Most Valuable Player on Tuesday, has not played since suffering a knee ligament sprain in Game 3 of their first round series with the Brooklyn Nets. 
The Philadelphia center said it is possible that he will take the court for Game 2 in Boston on Wednesday night during a press conference for his new award.
He will need to discuss with the doctors and training staff whether his sprained right knee is ready for him to return.
Embiid had gone through some light work on the court for the second straight day Tuesday, but he was listed as doubtful on the 76ers' initial injury report.
ESPN reports that Embiid participated in the team's shootaround Wednesday. His return would reportedly be contingent on him making it through pre-game warmups without further incident. 
The Athletic's Shams Charania reported Wednesday morning that Embiid informed his teammates he would be back on the floor while celebrating his MVP award. 
The oft-injured Embiid led the NBA in scoring for the second straight season, playing in 66 games — the second-most in his career. He missed the last game of Philadelphia's first-round sweep of the Brooklyn Nets and the first game of the second round, when the Sixers beat Boston to steal the home-court advantage in the series.
The Sixers were able to steal Game 1 from the Celtics in Boston Monday night behind James Harden's 45 point performance – matching his career playoff high. 
Boston led by as many as 12 points in Game 1 after a fast start, but had several key mistakes down the stretch, including a late turnover to help Philadelphia seal the win.