Dad Vail Regatta returns in a new location, as rowers will race on the Cooper River in South Jersey
PENNSAUKEN, N.J. - The Dad Vail Regatta is back, but in a different venue, breaking with tradition and taking place in New Jersey, rather than in Fairmount Park, on the Schuylkill River.
The biggest regatta in the nation is taking things to South Jersey for the first time ever in its history. It's a change, for sure, but one that James Hannah, with the regatta organizing committee, says was necessary, for now.
"In terms of change, that is substantial. Our board questioned whether or not we could continue to stage the regatta on the Schuylkill River with the uncertainty of dredging and decided, rather than take that risk," Hannah explained.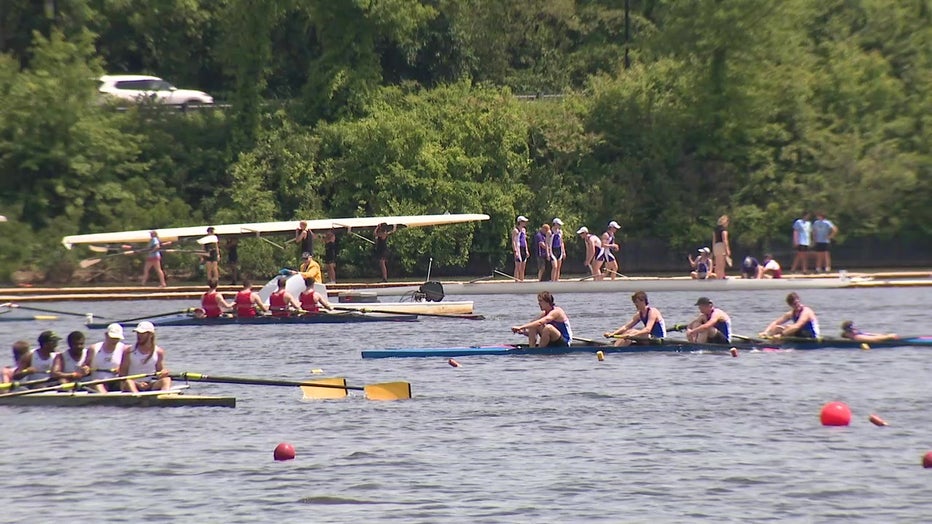 West Point senior rowing member Cammack Shepler and his crew are delighted to be on the Cooper River, as they raced it a few weeks ago.
"From the rowers' perspective, I like how it gives you the distance markings along the course just for the mental game. It feels like a smaller, more intimate venue," Shepler said.
RELATED:
The change in venue has brought a change in revenue for one of the river's only restaurants in the area, Lascala's Birra.
GM Chelsea Stillman stated, "We've certainly been preparing for it!"
Stillman has been the GM since it opened in 2018. She said she's had to add as much staff as possible to handle the crowds. "As soon as we opened the door, a floodgate opened and everyone's been enjoying it."
Carrie Baeckstrom and Lauren Edson live in the area and Baeckstrom, a former rower herself and Cherry Hill native, decided to show their support.
"It's really cool!" Baeckstrom exclaimed. "It's great to be back on the Cooper River. This is our hometown spot."
Francesca Meyer and Phoebe Li are part of a smaller rowing team, but love that they're ready to compete with the larger programs.
"I feel really happy to be here and it's been a really good experience, so far," Li said. "Day one went well and I'm ready for tomorrow."