North Wildwood officials watch in frustration as beaches wash away, while waiting for state response
NORTH WILDWOOD N.J. - Erosion along the shore is only getting worse and, it has officials in North Wildwood worried as the busy summer season approaches.
"I don't know what the next steps are here. Someone's going to get hurt and someone eventually will be held accountable, possibly criminally, because they knew about a hazard and ignored it," North Wildwood Mayor Patrick Rosenello explained.
Rosenello says North Wildwood could handle the whole thing in-house, as township backhoes and loaders would regrade a cliff the ocean has carved in the beachfront. The mayor says he needs a green light from NJDEP, but he's only seeing red.
RELATED COVERAGE:
"The court ordered us to submit an emergency application to the state to fix this," Mayor Rosenello said. "The state turned it down again. So, we are going to be appealing this to the appellate division. But, the fact we have to go to the appellate division of the New Jersey court, or the supreme court to fix an immediate public safety hazard, to me, means that the DEP has gone wrong somewhere."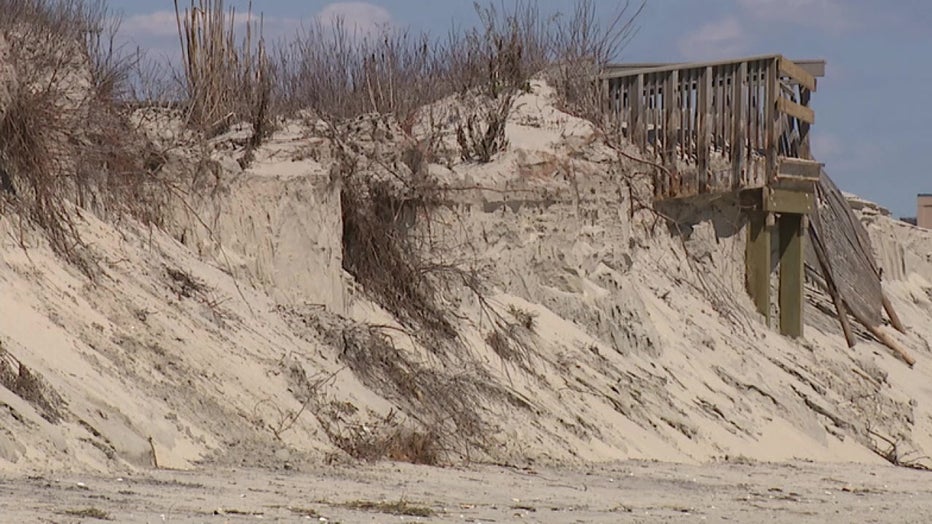 The Department of Environmental Protection has regulatory authority over N.J. beaches, but the fight has brewed all winter. The DEP sued North Wildwood in December for unapproved beach improvements. North Wildwood countersued for the millions in replenishment its done itself.
Then DEP fined North Wildwood nearly $13 million last month for unauthorized work. The DEP thanked FOX 29 Wednesday for asking, but reiterated because of ongoing legal layers, they could not comment on the situation.
Beachcomber Terrence O'Neill says nor'easters washed out beaches here for years, always with quick recoveries. But, this is bigger and there was no nor'easter.
"You can't chalk it up to a terrible storm. It could be the way of the barrier island. I don't know what to make of it, or how to fix it," O'Neill stated.