Police: 3 shot, including teen girl, in deadly home invasion near Temple University campus
NORTH PHILADELPHIA - Another home invasion near Temple University came to a tragic end with one man fatally shot, another man critically injured and a teen girl suffering from several gunshot wounds. 
Philadelphia police say just before 1 p.m., Two men kicked in the front door of a home on Diamond Street, near 18th Street and opened fire inside the house, shooting a 15-year-old girl four times and two men in their early twenties.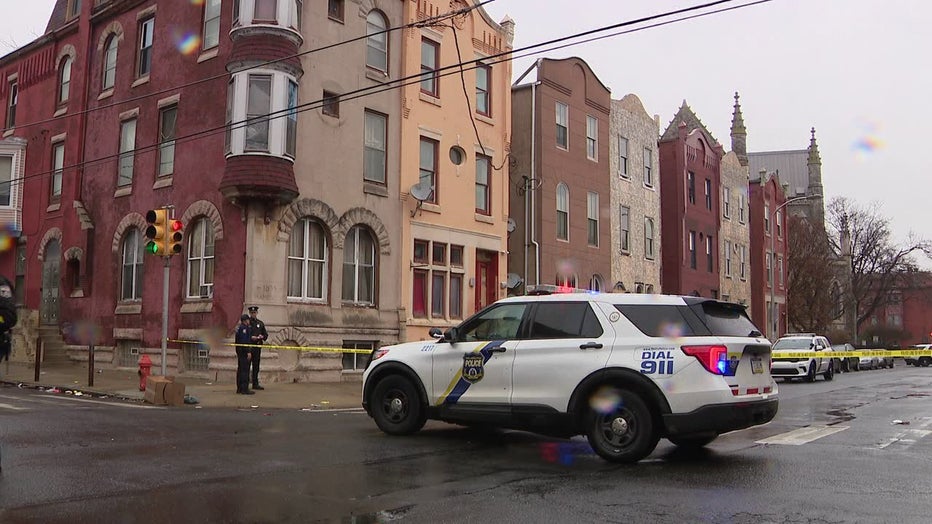 It's an area where some Temple University students live, just four blocks from the edge of campus, like Caleb Jackson, who says he got a TUalert, though the victims were not students.
RELATED COVERAGE: Police investigating third home invasion this month at Temple off-campus housing
According to police, 26-year-old Rayquan Morris was shot in the head and later died after being transported to Temple University Hospital. 
The teen was placed in stable condition at St. Christopher's Hospital for Children and the other man was listed in critical condition at Temple, per officials. 
Police say the suspects fled in a white Chevy. No arrests have been made, and no weapons recovered.
This deadly home invasion comes as robberies near Temple University continue to grow, causing concern among students.
RELATED COVERAGE: Temple University struggles with security as number of robberies near campus grows
"I texted my two roommates, asking if they had heard about the incident. If they were involved at all. Luckily, they weren't," Jackson explained.
Hours earlier, students got a message from the University about the attempted robbery of a student, at gunpoint, while they were walking on West Berks Street, near 16th, shortly after midnight.
The letter stated that it's similar to an armed robbery from earlier in the week, involving two students. Police are looking into whether there is a connection.
"There's definitely been a lot of notifications going to my phone about, oh you know, armed robbery here, shooting there, probably four or five times a week," Jackson stated. "In a way, it's like what do you expect, but there definitely should be a measure of safety."
Chiougta Ezell says he's frustrated about what's happening to the neighborhood. "People don't have respect for each other no more and that's why this stuff happens and it's scary."