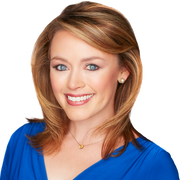 Jennifer Joyce
General Assignment Reporter
Jennifer Joyce joined the FOX 29 News team in September of 2013. She is a general assignment reporter for FOX 29 News. 
Jenni is thrilled to work in her hometown of Philadelphia. Prior to moving back "home," she worked as the Lancaster County Bureau Reporter for CBS-21 News based in Harrisburg, Pa.
While she was there, Jenni broke multiple stories, reported on the presidential election of 2008 with visits from Barack Obama, John McCain and Sarah Palin and was LIVE at Penn State University the night it was announced that legendary football coach, Joe Paterno, was fired. Jenni got her on-air start at News 12 The Bronx in New York City. She also worked as a reporter at WPVI-TV.
Jenni holds an undergraduate degree from Temple University. She currently teaches journalism as an adjunct professor at Saint Joseph's University, where she received a Master's Degree in Criminal Justice with a focus on Homeland Security in 2015.
In her free time, she loves cooking, hanging out with her family and friends and spending summers at the Jersey Shore.
Police in Radnor Township are investigating after three men robbed a Wawa in Wayne at gunpoint.
The United Breast Cancer Foundation is hosting a free mattress event for cancer fighters and survivors in the Philadelphia area Saturday.
A New Jersey 13-year-old girl with a rare genetic disorder is now a pageant queen.
Multiple row homes collapsed on the unit block of Elm Street Tuesday afternoon.
Police say a good Samaritan thwarted an attempted sex assault in broad daylight in Mount Laurel, New Jersey. 
Awilda Montes, of New York City, tells FOX 29's Jennifer Joyce that she drank from the minibar inside her hotel room at the Bahia Principe Bouganville resort in the Dominican Republic and immediately started vomiting.
A family wants answers after they say their loved one died at a Dominican Republic resort last year where three people were recently found dead.
A local family is looking for answers after a hit-and-run in West Philly left a man injured. 
Heavy rains inundated parts of the area and high winds scattered debris, downed trees and took out power lines.