'Don't let me die': Philadelphia teen awarded highest JROTC honor for bravery after saving friend's life
NORTH PHILADELPHIA - It was a special day at the Philadelphia Military Academy on Friday. Cadet Second Lieutenant Kaheem Bailey-Taylor was recognized for his brave actions with the highest honor an Army ROTC or JROTC cadet can receive.
In front of his family, fellow cadets and school leaders the 17-year-old was pinned with the Army ROTC Medal of Heroism.
The medal is presented to ROTC and JROTC cadets who perform an act of heroism involving the acceptance of danger and extraordinary responsibilities, exemplifying praiseworthy fortitude and courage, according to the U.S. Army.
MORE HEADLINES:
"The bravery, the heroism that was shown, the selflessness of himself," said Lt. Colonel Retired Russell Gallagher, Commandant of the Philadelphia Military Academy. "Our research shows that in the last 20 years there have been less than 50 of them given. That's nationwide. When you think about it, there are over 1,700 ROTC programs and 300,000 ROTC cadets."
Last August, Bailey-Taylor displayed his courage when gun shots rang out on North Bonsall Street. Instead of running away from danger, he sprang into action, saving the life of a fellow cadet and friend.
RELATED COVERAGE: Police: 4 teens shot after gunfire erupts at birthday party inside North Philadelphia home
"I plugged my two fingers in right here," said Cadet Second Lt. Bailey-Taylor.
Bailey-Taylor showed FOX 29's Jennifer Lee where he applied pressure on the lower part of his friend's stomach, eventually using his own fingers to plug the wounds. He recalls his friend saying, "Bailey-Taylor, please don't let me die."
"I think that will always live with me, because no teenager should be in that predicament where they got to say, 'Bailey-Taylor please don't let me die,'" said Bailey-Taylor.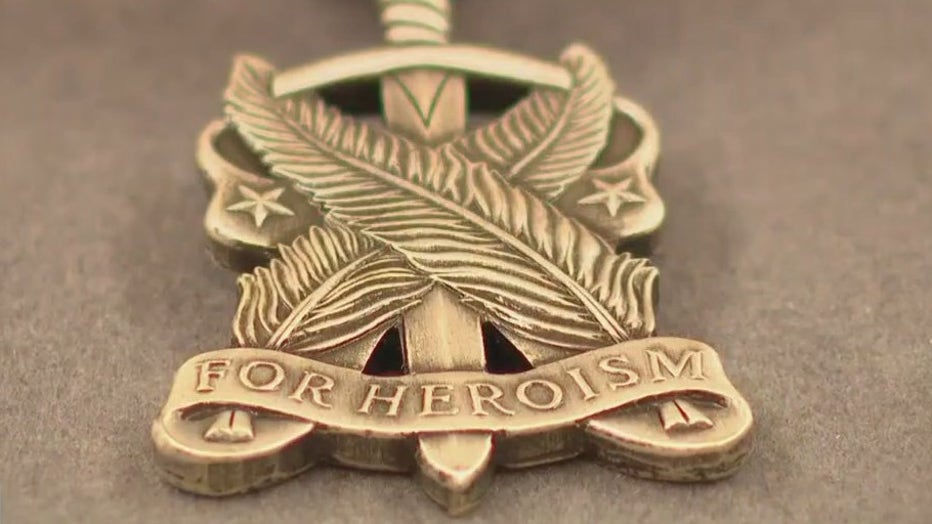 Bailey-Taylor's mother Chantel Taylor could not be more proud of her son.
Taylor told FOX 29 the surviving friend's mother told her, "'Tell your son, thank you, he saved my son's life. My son might not be here if it wasn't for him.' You know he is who he is, that's my shining star."
Philadelphia Police arrested a 17-year-old male for four counts of attempted murder and aggravated assault in December for the shooting.
As for Bailey-Taylor, he plans on advocating against gun violence with the goal of one day working for the Department of Homeland Security.
"If it wasn't for ROTC, I probably wouldn't have known what I was doing," said Bailey-Taylor.