More than 70 large dogs at risk of being put down if not adopted, fostered by next week: ACCT Philly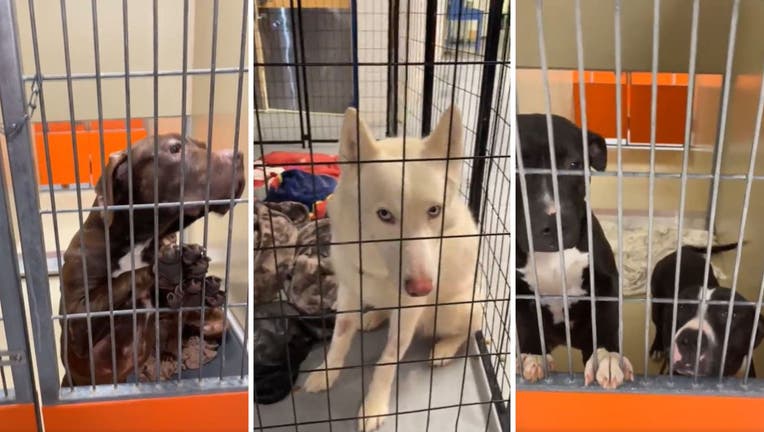 article
PHILADELPHIA - The need for a new animal holding facility is putting dozens of dogs at risk of being put down, according to ACCT Philly. 
The agency is Philadelphia's only animal care and control provider that helps the community with an open intake of animals. 
According to the group, a second shelter needs to be temporarily created to hold dogs exposed to canine flu for up to one month. 
As recent cases of canine influenza continue to spread quickly, ACCT Philly says it will need a different place to hold dogs exposed to respiratory viruses. 
With an average of 100 dogs coming into the shelter each week, ACCT Philly says it cannot close intake services as no other organization can handle the influx of animals. 
MORE LOCAL HEADLINES
According to the nonprofit, they must house sick dogs in a separate space in the building, but the temporary space is only able to hold 50 dogs. 
There are currently 120 dogs that need housing, which means about 70 dogs will need to find placement by Monday, April 24 in addition to dogs continuing to come into the shelter. 
"There is no good time to do something like this, but unfortunately, with the number of dogs who are getting sick, we don't have a humane alternative," ACCT Executive Director Sarah Barnett said. "We continue to be here for the animals most in need in Philadelphia, and while this will be very challenging to pull off, we hope that the community will support us and help make this successful."
Barnett says people are needed to foster a large dog for a month, or make a donation to help with the effort. 
"We are the only organization open 365 days a year 24/7, helping almost 16,000 animals each year, and we can only do so with the community's investment," Barnett said. 
You can sign up to foster a large dog here or view animals available for adoption here. 
The nonprofit says adoption fees are waived for dogs over 40 pounds until April 23rd. 
Those who can foster large dogs will also receive a $400 Visa gift card at the end of the month, the nonprofit said. 
Donations for ACCT Philly can be made here.