More than $100,000 raised for 'brave' officer wounded in deadly Deptford shooting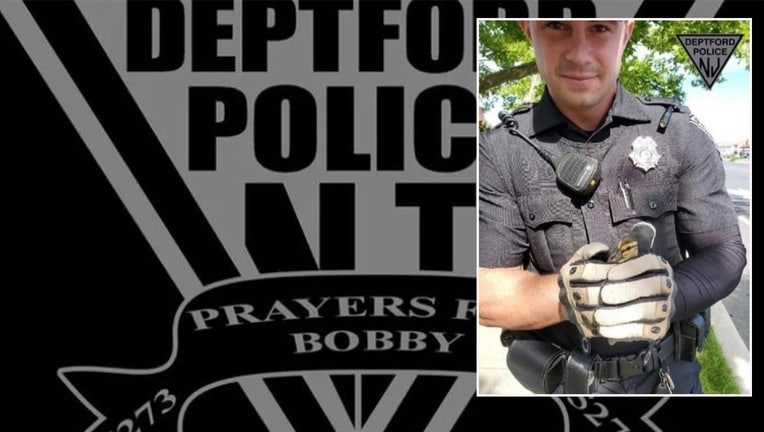 article
DEPTFORD, N.J. - Answering the call. Friends, fellow law enforcement, local residents and beyond have rallied behind a hero police officer injured in the line-of-duty last week.
A GoFundMe has surpassed its $100,000 goal in just four days to raise donations for Deptford Township Officer Bobby Shisler. As of Wednesday afternoon, the running total has reached $101,458.
Shisler was struck when a pedestrian stop escalated into a foot pursuit, struggle and shooting that left the officer injured and the suspect dead.
RELATED COVERAGE: 'Brave' officer has 'long recovery ahead' after being shot in deadly Deptford shooting
The officer is still recovering after being rushed to a local hospital for emergency surgery, then placed in stable condition.
The NJSPBA said the 4-year veteran has a "long recovery" ahead of him a day after the shooting.
"This brave 4-year veteran was in the fight of his life yesterday. He suffered critical life-threatening injuries."
In addition to the skyrocketing donation page, a local shop also raised significant funds with a custom T-shirts just for Officer Shisler.
RELATED COVERAGE: Support for Deptford officer shot grows beyond Gloucester County, reaching across the U.S.
"The shirt sales have exploded and it's amazing," exclaimed Nikki Foreman, co-designer at In Stitches Monogramming. "It's wonderful to see there is just so much support."
In just 24 hours, the shop sold almost 2,000 shirts totaling nearly $10,000 in sales.