Police takedown suspected shoplifters; Three Philly teens shot near school; Overnight showers, cooler temps
THE RUNDOWN: 
1. Police wrestle 2 suspected shoplifters into custody at Pennsylvania Ulta store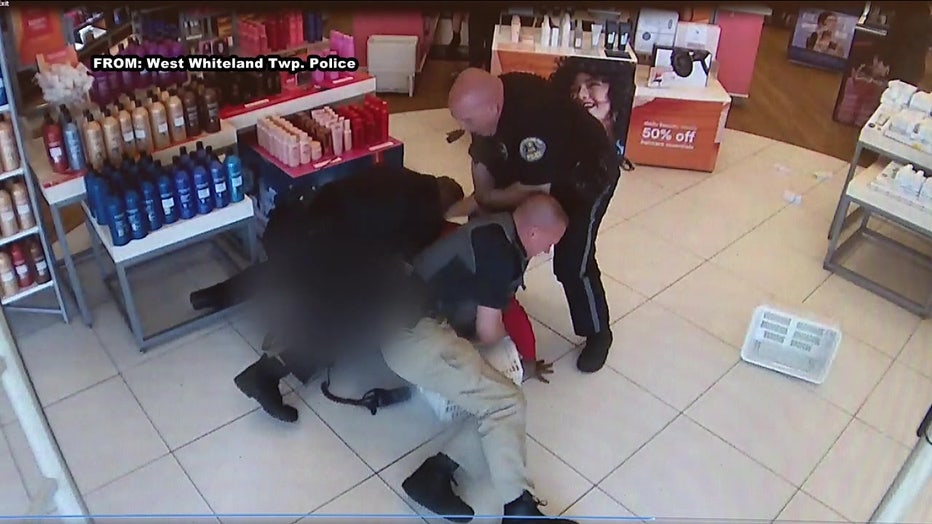 EXTON, Pa. – Surveillance video shows the moment police say two shoplifters were wrested into custody after they tried to steal thousands in perfume from a Pennsylvania Ulta.
In a Facebook post on Friday, the West Whiteland Police Department said they received information about a plan to steal $10k in fragrances from an Ulta in Exton. 
Detective Scott Pezick told FOX 29 that his department was told to be on the lookout for a red Nissan Altima thought to be linked to other Ulta thefts. 
Perzick said authorities called the Ulta on Swedesford Road in Exton to let employees know that their store could be targeted.
Officers from the West Whiteland Police Department staked out in the Ulta parking lot on Friday morning and spotted the red Altima. A suspect entered the store for a few minutes then returned to the car, police said. 
A short time later, investigators say Nyzaiah Williams, 19, and a 16-year-old entered the store and tried to stuff laundry bags full of perfume. The attempted robbery was captured on store surveillance camera. 
When the alarms for each perfume began to sound, police say officers approached the suspects who tried to run away. Surveillance video shows the officers give chase and wrestle the suspects into custody, knocking over shelves and store displays. 
Williams and the teen are both from New York, and were previously arrested in Connecticut for another Ulta theft. The third suspect managed to flee in the red Altima. 
Investigators are not ruling out that they could be part of a larger ring. 
2. Police: 3 teens injured in daytime shooting near two Philadelphia schools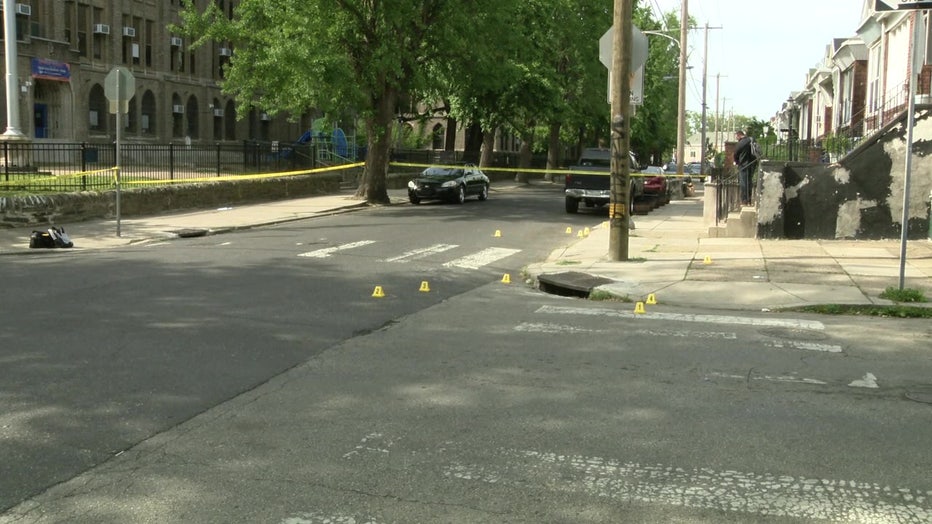 PHILADELPHIA – Authorities say three teenagers, including a pair of brothers, were injured in a shooting that erupted shortly after dismissal time near two Philadelphia school buildings. 
Officers from the Philadelphia Police Department were called to the intersection of North 17th and West Pike streets around 3 p.m. for reports of a shooting. 
Capitan John Walker told reporters that two brothers, ages 16 and 15, showed up to Temple University Hospital with gunshot wounds to the leg and side. 
Both teens are students at Simon-Gratz High School, which is just down the block from where the shooting happened, Walker said. 
According to police, a 17-year-old boy was grazed in the neck during the shooting and rode the subway home where his parents called 911. 
Investigators believe that at least two shooters were waiting for the teens in a burgundy sedan and fired over a dozen shots. 
Police are working to develop a motive for the triple shooting. 
3. Weather Authority: Overnight showers leads to cool, cloudy Tuesday
PHILADELPHIA – Overnight showers will leave behind clouds and cooler temperatures across the Delaware Valley on Tuesday, but sunshine won't be gone for long. 
A large system of rain will scrape past parts of the Delaware Valley overnight Monday. Forecasters expect showers to stay concentrated on areas south and east of Philadelphia. 
Scattered showers and lingering clouds will continue into Tuesday morning as temperatures stay on the cooler side. 
Forecasters expect Philadelphia and its suburbs to peak around 70 degrees on Tuesday. Areas along the New Jersey coast will skew slightly colder, with highs in the low 60s. 
Cloud cover will start to break up on Wednesday with highs returning to the low 70s. Another chance of rain is likely on Thursday and Friday, but temperatures will continue to climb ahead of Memorial Day Weekend. 
FOX 29's Weather Authority expects a pleasant Memorial Day Weekend, with consecutive days of mostly sunny skies and highs in the low 80s. 
4. Police: 14 shot, 6 killed as violence erupts over the weekend in Philadelphia
PHILADELPHIA - Another violent weekend across Philadelphia has already seen at least 11 separate shootings, some of them deadly.
Beginning Saturday night, police say three teens were shot during a festival at Penn's Landing around 9:30 p.m. A 14-year-old boy was shot in the ribs, while two 14-year-old girls were both shot in the foot. Police believe the shooting stemmed from an argument, and the shooter may have targeted the teens.
Philadelphia police are investigating a shooting at Penn's Landing that injured three teenagers, two of them critically.
Two more teens were reportedly injured in a separate shooting before 10 p.m. Saturday. Two 18-year-olds were left in critical condition after an alleged double shooting on 23rd Street. One teen was shot twice in the wrist and shoulder, and the other suffered at least five shots through his body, according to police.
A fatal shooting occurred on the 7200 block of 20th street around 10:48 p.m. Police say a 32-year-old man was killed after being shot multiple times in an alley.
Just a couple of minutes later, another man was reportedly shot in the ankle on 10th street. He is said to be in stable condition.
A homicide investigation began Sunday morning on the 5500 block of Hill Creek Circle. Police say a 23-year-old man was found with a gunshot to the head around 1:40 a.m. He was pronounced dead on the scene.
On Allegheny Avenue, a 38-year-old man was reportedly shot in the left arm around 1:42 a.m. He is said to be in stable condition after being transported to a local hospital.
Another man is also reportedly in stable conditions after police say he was struck by three bullets in his shoulder, leg and arm on the 2600 block of West Sergeant Street around 2:25 a.m.  
Around 4 a.m., an attempted robbery turned deadly when police say a 30-year-old suspect was shot dead by the man he was allegedly trying to rob. He was shot in the chest the 2600 block of West Sergeant Street around 2:25 a.m., according to police.
Police reported a fatal shooting around 6 a.m., saying a 52-year-old man was killed after suffering two shots to the chest on the 3400 block of 11th Street.
Later Sunday afternoon, police were called to the Fairmount section, on the 4900 block of Aspen Street, where a 29-year-old man was found with multiple gunshot wounds. He died at the scene.
About an hour later, police were in Ogontz, on the 5800 block of North 16th Street, where they found a young male victim with a gunshot wound to the head. He died at the hospital.
5. 'Please contact us': Family, friends search for missing Delaware County business owner
BROOMALL, Pa. - Family, friends and people from across Delaware County showed up Sunday to search for a local business owner. He left his job almost a week ago and has been missing ever since.
"George, if you're out there, please contact us. We love you," Debbie O'Connor said.
A desperate plea from the sister of George Hughes, who went missing six days ago.
Debbie O'Connor says her brother disappeared from his auto-body business in Broomall, off West Chester Pike, Monday, after getting in an argument with a family member.
A customer spotted him near the Giant in Edgemont Square Shopping Center some time between 2 and 4 that afternoon.
But, since then? Nothing.
"This is not characteristic of him. He has never taken off like this before and we don't understand what has happened," O'Connor explained. "He has a ton of friends, a ton of people that love him."
O'Connor says her brother, a husband and parent, was struggling with a recent death in the family and on getting business back after COVID-19.
With family, friends and other volunteers, they searched Ridley Creek Park Sunday morning, not far from the shopping center.
"We need all the help we can get, because we lost a trail that we thought we were following up on at the park and we're not seeing anything," O'Connor commented.
Anyone with information regarding George Hughes can contact the Facebook page set up or by calling (610) 592-4262. Additionally, people can contact Marple