Philadelphia surpasses 300 homicides in 2021 after violent night
PHILADELPHIA - The City of Philadelphia has now recorded more than 300 homicides so far in the year 2021 after another night of gun violence left two men dead. 
Thursday night, a man in his 20s was killed after he was one of three people shot in North Philadelphia. That shooting also left a 14-year-old girl injured after police say she was struck by a stray bullet as she sat on her front porch nearby.
In the city's Hunting Park neighborhood, a 21-year-old man was found unresponsive in between two parked cars after police say he was shot in the shoulder. He was later pronounced dead at the scene. 
July 16 is the earliest the city has reached the grim milestone of more than 300 homicides in more than a decade, and the total is more than the city saw in all of 2016, 2015, 2014, and 2013.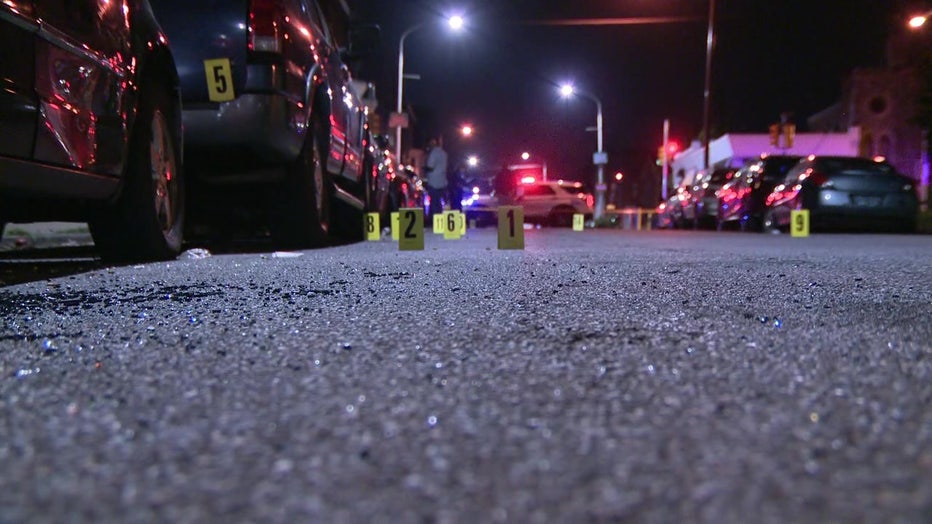 Homicides are up more than 30% in the city over the same date in 2020, when the city saw 499 homicides by the end of the year. 
After Thursday night's triple shooting Philadelphia Police Commissioner Danielle Outlaw released a statement on the violence that had once again impacted a young life. 
"Another quiet summer evening has been shattered by gun violence," said Commissioner Outlaw. "People have a right to feel safe in their neighborhoods, and we refuse to stand idly by while yet another child has their life forever changed by a coward with a gun. We ask anyone with information to come forward to assist us in bringing justice to these victims."
Earlier in the day Thursday, Philadelphia Mayor Jim Kenney was among nearly a dozen U.S. mayors to take part in the first meeting of the Biden administration's community violence intervention collaborative. The meeting is intended to allow the mayors and administration officials to share best practices and work closely with the federal government to reduce gun violence.
The White House has touted its investments in these programs as one of the ways it is working to reduce gun violence and combat crime. The mayors will continue to meet biweekly throughout the summer, and monthly into the fall, to share best practices.
Friday, Mayor Kenney addressed the violence in a statement: 
"One life lost prematurely to violence is one too many, and I am devastated by the unrelenting rise in gun violence that has tragically claimed the lives of over 300 fellow Philadelphians so far this year. While this is an appalling national trend because of the lack of commonsense federal gun laws, the local violence we're experiencing is tearing families and communities apart here at home, and inflicting trauma on Philadelphians of all ages.  
While residents may understandably feel hopeless and scared, I do believe we have reasons to be hopeful for a return to better, safer times, especially as the unprecedented challenges of the COVID-19 pandemic are improving. For starters, the community intervention programs that were stalled by the pandemic are resuming in full force, the economy is rebounding, and we also have federal leadership that takes this issue seriously and are committed to working with local and state governments to address the unabated flow of illegal guns into our cities. Just this week I met with the Biden administration about a new initiative supporting cities like ours.
In addition, we are making a historic and unprecedented local investment of $155 million this fiscal year into proven violence reduction strategies that will save lives. With this funding we look forward to expanding community violence intervention programs, building up enrichment opportunities and safe havens for children and youth, investing tens of millions into community-based programs, increasing funding for workforce development and transitional jobs programs, and much more.
The Police Department has also increased their seizure of illegal guns as officers combat the proliferation of so-called "ghost guns," and arrest people who commit crimes with firearms. It will take all of us working together among the criminal justice system, all levels of government, community and faith organizations, the business community, and residents to create a safer and more just city for us all. 
Finally, as a reminder, we invite leaders of grassroots organizations to apply for the latest round of Targeted Community Investment Grants, worth $500,000 in this cohort. Funding ranges from $1,500 to $50,000 for this cycle and applications can be submitted HERE until Friday, July 23, 2021, no later than 11:59PM. Over the last two years, this initiative has funded over 125 projects with a combined award of more than $2.2 million." 
Commissioner Outlaw followed Mayor Kenney by issuing her own statement in which she called the brazen gun violence "appalling" and doubled down on her department's commitment to deterring crime.
"Early this morning, the city surpassed 300 homicides. The brazenness with which these assaults are carried out is appalling" Outlaw said. The lack of regard for human life is affecting innocent bystanders and our children are being caught in the crossfire."
 The Philadelphia Police Department remains committed to ensuring the safety of all residents and visitors of Philadelphia. So far this year, we have taken almost as many guns off of the streets than we did in all of 2020. Our officers remain laser-focused on enforcing the law while deterring crime, and as I have spoken about previously, we continue to partner with local, state, and federal law enforcement to improve our operations and have access to technology that can help the PPD curb violence more effectively."
 Again, I cannot understate the importance of the police and the community coming together and acting as partners. Social problems require a unified response. It is through collaboration that we will be able to effect long-term and sustainable change."
___
MORE HEADLINES: 
Triple shooting leaves 1 man dead, teen girl injured by stray bullet
Police: 21-year-old man dead after shooting on Hunting Park Avenue
Police: 1 injured in shooting outside Chickie's & Pete's in Northeast Philadelphia
Police: Driver who struck 12-year-old with truck in South Philadelphia was impaired, will face DUI charges
___
DOWNLOAD: FOX 29 NEWS APP
SUBSCRIBE: Good Day Digest Newsletter | FOX 29 Philly on YouTube