Police: Suspect sought after abducting woman at gunpoint in Kensington, fleeing scene in golf cart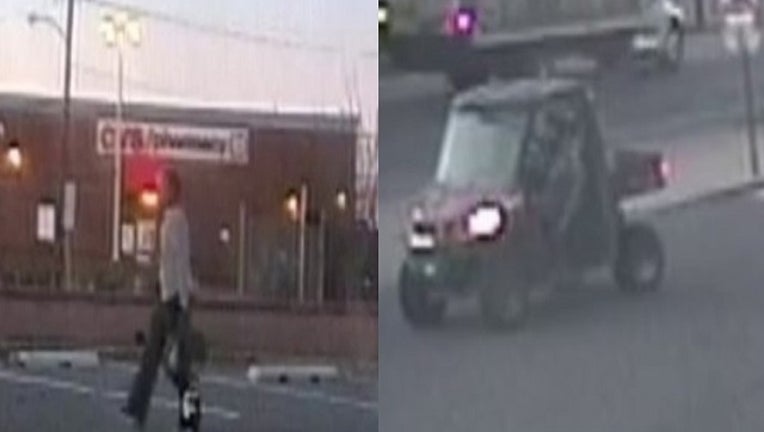 article
KENSINGTON - Philadelphia police are looking for a suspect they say abducted a young woman, at gunpoint, and fled with her in a golf cart.
Officials say the incident happened Saturday morning, just after 6:30, on the 2500 block of Aramingo Avenue, in Philadelphia's Kensington neighborhood.
According to authorities, the victim was walking east on Cumberland Street toward Aramingo Avenue, while the suspect appeared to be following her, in a maroon and black Polaris Northstar XP 1000 two-seat golf cart.
MORE HEADLINES:
He pulled into a bank parking lot on the 2500 block of Aramingo and fired a weapon one time, the bullet hitting the asphalt of the lot.
At that point, officials say, a witness told police the man crossed over Aramingo into the Wawa and Applebee's parking lot, got out of the golf cart, pulled out a gun, pointed the gun at the woman, grabbed her and shoved her into the golf cart.
Then he drove off in the golf cart, with the woman, heading west on Cumberland.
The victim is a woman in her late 20s or early 30s, wearing a light-colored jacket, a dark shirt, black jeans with a white design on the left leg. She was carrying a black bag.
The man is about 6'0", and was wearing ripped blue jeans, a brown plaid smock shirt and a green beanie-style hat.
Anyone with any information regarding the man, the victim or the incident is urged to contact Philadelphia Police Special Victims Unit at 215-685-3251 or 3266 or 3264 or dial 911. Additionally, tips can be submitted by calling 215-686-TIPS (8477) or texting PPD TIP (773847). Tips can also be submitted anonymously online, here. Email tips, photos or video to tips@phillypolice.com. All tips are confidential.