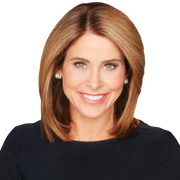 Kathy Orr
Meteorologist / Weather Anchor
Meteorologist Kathy Orr joined the FOX 29 team in September, 2015, as weather anchor for the FOX 29 News evening newscasts.
Prior to joining FOX 29, Kathy provided forecasts weekdays on CBS 3's Eyewitness News at 5, 6 and 11 p.m., as well as for The CW Philly at 10 p.m. She also provided forecasts for CBS 3's sister radio stations, 94 WIP and KYW News radio.
Kathy arrived in Philadelphia in 1998 as the first female meteorologist in the Philadelphia television market. Named "Rookie of the Year" by the Delaware County Times in 1999, Kathy's forecasting and reporting earned her eight Mid-Atlantic Emmy Awards for "Best Weathercaster." She also earned top honors from the Pennsylvania Associated Press Broadcasters Association and in 2008, was named "Best Weathercaster" in Philadelphia Magazine's "Best of Philly" issue. She was inducted into the Broadcast Pioneers of Philadelphia's "Hall of Fame" in 2013.
Kathy's career highlights include broadcasting live from the cockpit of a hurricane hunter aircraft while flying through Hurricane Ivan in 2004; serving as the official meteorologist of the Philadelphia Eagles and broadcasting live from the 2005 Super Bowl and 2008 World Series. She's provided weather updates and commentary for CBS Radio, XM Radio, ESPN Radio and Sports Illustrated.com.
A former board member of the American Meteorological Society's Board of Broadcast Meteorology, Kathy selected candidates to receive the coveted AMS Seal. In addition, she is a mentor for the American Meteorological Society's DataStream Project. For nearly 10 years she has educated teachers in the field of Meteorology so it can be added to the curriculum in local schools.
Kathy earned a B.S. in Meteorology from the State University of New York at Oswego and a B.S. in Broadcast Journalism and Marketing from Syracuse University. She holds the NWA, AMS and CBM Certifications in Meteorology.
In 2003, Kathy was recognized by the New Jersey Governor's Office for her "Orr at the Shore" series of summer reports that highlighted environmental awareness along the Jersey Shore. The Jersey shore is an issue dear to her heart, since her family has vacationed "down the shore" for more than 30 years. Kathy resides in South Jersey with her family.
The latest from Kathy Orr