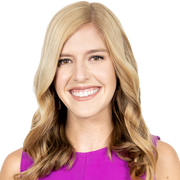 Kelly Rule
General Assignment Reporter
Kelly Rule is a general assignment reporter for FOX 29 News.
The latest from Kelly Rule
The first day of school for students and faculty members at the Cristo Rey Philadelphia High School was particularly remarkable Monday.
The man accused of shooting six police officers in North Philadelphia has been identified as 36-year-old Maurice Hill.
Did you know there's a patch of grassy land to the right of the Vine Street Expressway when you drive into the city?
Police say they have arrested a man for arson, after several cars went up in flames. First, at a Philadelphia auto repair shop in the Northeast, then at a car dealership. Both businesses are just a few blocks from each other.
Authorities in Montgomery County have identified three family members from Penn Valley who died in a plane crash Thursday morning in Upper Moreland Township. 
Emergency responders say no one was on board a cargo train that derailed and caused a pile of wreckage Tuesday afternoon in Bethlehem.
A Delaware County father is not shying away from letting people know his son is learning a lesson. On Sunday, Media Borough police put out a list of street signs, businesses, and buildings that were tagged with graffiti over the weekend in the borough and in Upper Providence.
Philadelphia police say they are seeing an increase in bike thefts throughout the 14th District.
A viewer says he recorded a video of mice running through the Popeyes on Broad Street near Snyder Avenue.