DA: Darby man charged for deadly Springfield road rage shooting sparked by victim's driving speed
PHILADELPHIA - The alleged gunman who fatally shot a driver in Springfield on Wednesday morning has been arrested, according to authorities. 
On Thursday, law enforcement sources told FOX 29 that an arrest was made in connection with the case. 
Delaware County District Attorney Jack Sollsteimer then held a press conference Friday morning to announce the arrest of 22-year-old Saddiq Washington of Darby Borough. 
Officers in Springfield Township were called to the area of South State Road between Buttonwood Drive and Meetinghouse Lane just before 9 a.m. on Wednesday for reports of a vehicle crash and shooting. 
According to investigators, 54-year-old King Hua and his wife were driving south on State Road in the right lane when another vehicle with a man and woman inside passed them on the shoulder of the road. 
Authorities say the male passenger in the car on the shoulder exited the vehicle and fired shots at the other car, striking the windshield and Hua. Investigators believe the shooter fired on the car because the driver, Hua, was not driving fast enough.
MORE LOCAL HEADLINES
"The suspect's vehicle pulls on to the shoulder of the road, got ahead of the victim's vehicle, got out of the vehicle, fired two shots at the vehicle which permeated the window, killing the operator," Springfield Township Police Chief Daly described the incident.
Hua was taken to a nearby hospital where he died, according to authorities. 
Hua's only daughter said her father worked as a nail technician and immigrated to the United States from Vietnam more than 20 years ago for a better life. 
Stollsteimer says Washington has been charged with first-degree murder and related charges. 
According to the District Attorney, Washington's mother was driving her son at the time of the shooting, but the DA's Office said they could not answer any questions about charges against the mother. 
Washington had a license to carry and legally purchased the gun used in the shooting, according to officials. 
Springfield Township Police Chief Daly told reporters that Washington was arrested and told police he was the shooter while in custody.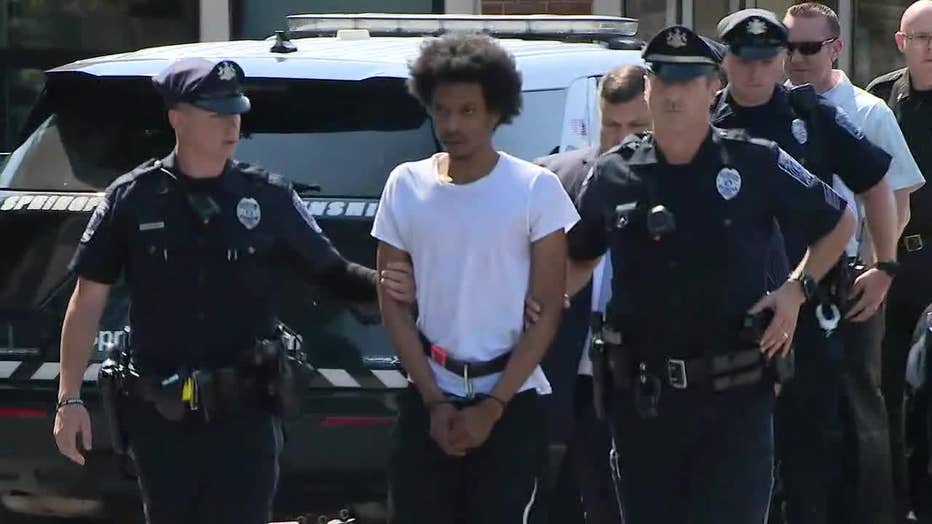 Saddiq Washington, 22, being escorted by police after being arrested in connection with a deadly road rage shooting in Springfield.