DA: Officer used lawful force in shootout with suspect near King of Prussia Mall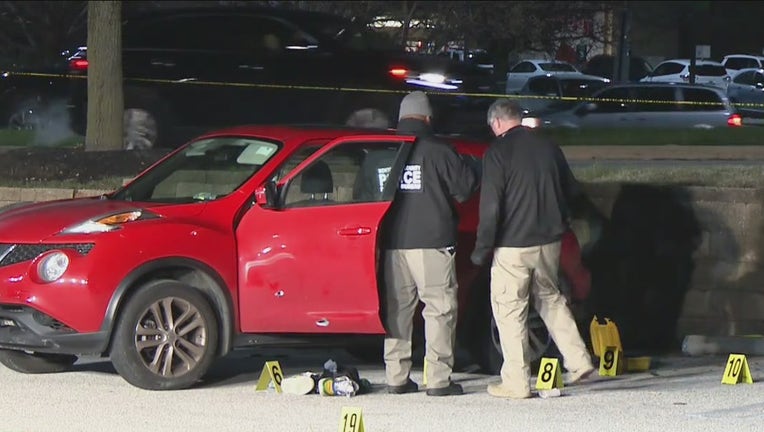 article
KING OF PRUSSIA, Pa. - Montgomery County officials announced the Upper Merion police officer involved in a shooting with an armed man in the King of Prussia parking lot has been cleared in the use of force.
The investigation stemmed from a December 18 incident at the King of Prussia Mall, in what began as a hit-and-run crash in a KOP parking garage.
The call came about 2:30 in the afternoon. An Upper Merion bicycle officer found the striking vehicle, a red Nissan Juke, in a parking garage in the mall, with the driver, identified as 27-year-old Philadelphia resident Andrew Wiley, attempting to hide in the backseat of the car.
Wiley took off in the car, heading toward the Gulph Road exit, but became entangled in the heavy Christmas shopping traffic.
MORE HEADLINES:
At this point, a marked police car, with lights on, pulled up to the Juke. According to officials, Wiley then drove the car over a curb, trying to escape through the Seasons 52 restaurant parking lot, but drove over a four-foot retaining wall and the car came to stop.
RELATED COVERAGE: Suspect injured, charged following shootout with police near King of Prussia Mall
Through the investigation, conducted by the Montgomery County Detective Bureau, dashcam video showed the officer get out of his vehicle and approach the Juke, at which point, Wiley began firing a weapon.
The officer ducked behind an SUV and returned fire, hitting Wiley in his leg.
Wiley was arrested and charged with Attempted Murder of a Law Enforcement Officer, Assault of a Law Enforcement Officer, Aggravated Assault, Firearm Not to be Carried Without a License, Recklessly Endangering Another Person and other related charges.
"The evidence shows that the suspect, Andrew Wiley, immediately began shooting at the approaching officer in a very busy location. The officer fired his weapon at the suspect, striking him and stopping the threat to innocent bystanders as well as to himself," said Montgomery County District Attorney Kevin R. Steele. "Thankfully, no lives were lost during this incident, and the defendant was taken into custody. After review of all of the evidence, I have concluded that this was a lawful use of force.
The Montgomery County District Attorney's office says a 9mm 'Glock-type' firearm was recovered from Wiley's possession. The gun did not have a serial number and appeared to be a ghost gun, according to the DA's office.
Upper Merion Police Chief Thomas Nolan says several mall and restaurant patrons were in the parking lot at the time of the incident. 
"You have the largest shopping mall by retail space in the country, the Sunday before Christmas – yes, it could've been very, very different. The actions of the officer in this case were heroic. It's a miracle the officer was not injured and we don't have a worse situation right now," Chief Nolan added.