Teen fatally shot on SEPTA bus in Germantown, police say
PHILADELPHIA - An investigation is underway in Philadelphia after a teen was fatally shot on a SEPTA bus, police say. 
According to authorities, the shooting erupted inside a SEPTA bus just before 11 p.m. on Wednesday evening on the 5200 block of Germantown Avenue. 
Police arrived on scene and entered the bus, where they found a male victim lying on the ground bleeding from a gunshot wound to the chest, police say. 
The victim was rushed to Einstein Hospital, where he was pronounced dead at 11:04 p.m., investigators say. 
The victim was originally described by police as an unidentified male believed to be in his late teens or early 20s. On Friday, police identified the victim as 15-year-old Randy Mills, a student at Roxborough High School. 
Investigators say the partition between the driver and the passenger area was struck by a bullet. 
MORE LOCAL HEADLINES
The 52-year-old bus driver told authorities she heard a confrontation followed by gunshots, Philadelphia Police Chief Inspector Scott Small said Thursday. 
Authorities say the shooting was captured on the bus's interior and exterior cameras. 
The masked shooter fled the bus after the shooting, police say. 
According to investigators, eight passengers were on the bus at the time of the shooting.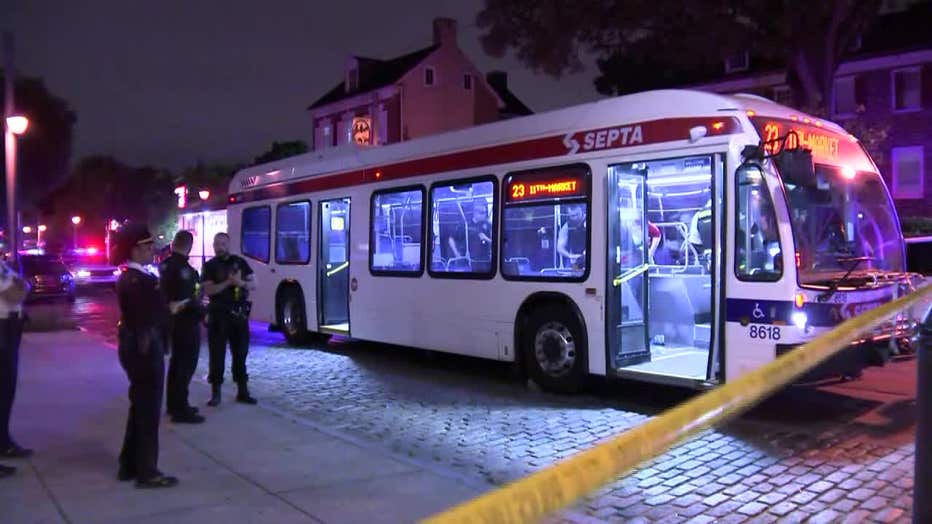 Investigators with the Philadelphia Police Department collect evidence after a deadly shooting on a SEPTA bus in Germantown. 
SEPTA officials held a press conference on Thursday morning, saying incidents like this happen too often in the city. 
The suspect has been identified as a masked individual wearing a dark hoodie. 
Police say he engaged the victim in a verbal altercation before shooting him in the chest. 
"We will not stop. We will not stop looking for you because we know you'll be back," Transit Police Chief Charles Lawson said. 
Lawson also issued a warning about ski masks, commonly known as Shiestys, among young people. He says the masks are not allowed to be worn on SEPTA property. 
He also praised the actions of the bus operator, who "did a tremendous job" in helping to protect other passengers. 
Lawson says the Philadelphia Police Department's Homicide Unit is leading the investigation. 
On Friday, the School District of Philadelphia released a statement about the passing of Mills, saying: 
"We wish to extend our deepest sympathies and heartfelt thoughts to the family and friends of the young Roxborough High School student whose life was tragically cut short Wednesday. We condemn the senseless gun violence in Philadelphia - a years-long crisis that continues to have lasting impacts on our children and their families."
Mills is the latest student from Roxborough High School to die from gun violence. 
In September, 14-year-old Nicolas Elizalde was fatally shot by a group of gunmen who opened fire on him and other students after a football scrimmage. 
The shooting also comes nearly two months after Simon Gratz High School student Devin Weedon, 15, was gunned down on his way to school. 
By the end of March, nearly 100 Philadelphia students were victims of nonfatal shootings and 18 were killed.