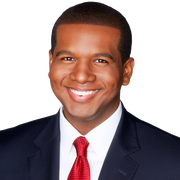 Scott Williams
Meteorologist / Weather Anchor
Scott Williams joined the FOX 29 News team in 2012 as a meteorologist and weather anchor.
Before joining FOX 29, he spent three years at The Weather Channel in Atlanta covering weather across the country. He began his career in Texas and has also worked in South Carolina.
An Emmy Award-winning meteorologist, Scott holds the Certified Broadcast Meteorologist Seal (CBM) from the American Meteorological Society. It is the highest certification awarded to broadcast meteorologists. He also holds the seal of approval from the (NWA) National Weather Association.
His passion for meteorology dates back to his childhood in South Carolina. Scott is a Hurricane Hugo survivor and has been fascinated by weather ever since and knew that weather was the career for him. Scott also taught meteorology to academically gifted students as a part of talent identification program for Duke University.
He graduated Summa Cum Laude from North Carolina State University, where he studied meteorology.
In his spare time, Scott enjoys visiting schools to talk about weather, along with volunteering in the community.
He enjoys fishing, the outdoors, and cooking. A self-proclaimed foodie, Scott enjoys scoping out Philadelphia area restaurants.
The latest from Scott Williams
Showers, however, will return Sunday night and may dampen outdoor dining plans.
FOX 29's Scott Williams has your Mother's Day forecast.
Scattered rain is expected to hang around on Saturday along with a cold front that will drop temperatures into the 50s.
Scott Williams updates the FOX 29 Weather Authority seven-day forecast, including the cooler temperatures in place and a sneak peek at Mother's Day
Scott Williams updates the FOX 29 Weather Authority seven-day forecast including the rain chances for the Delaware Valley over the next several days.
FOX 29's Scott Williams has your Monday forecast.
Conditions will remain warm and sunny on Sunday as temperatures return to the lower 80s. The favorable weather will continue to start the workweek but some rain is on the way.