Eagles Free Agency: Birds agree to deals with backup QB Mariota, CB Williams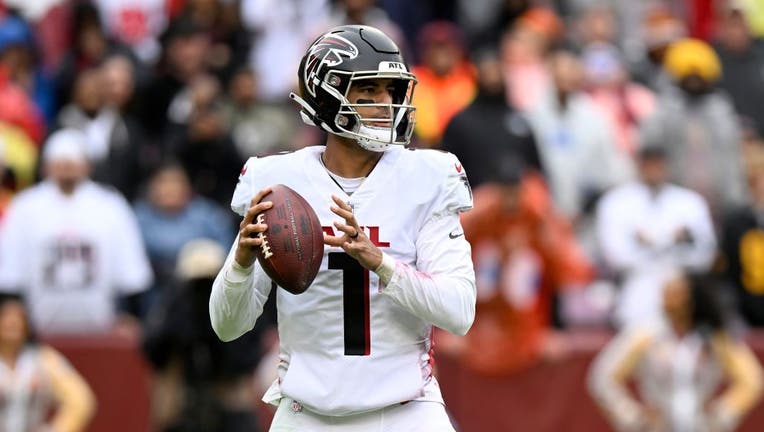 article
PHILADELPHIA - The Philadelphia Eagles have reportedly agreed to terms on a deal with a new backup quarterback for the upcoming season.
According to reports, QB Marcus Mariota and the Eagles agreed to a one-year, $5 million deal that could be worth up to $8 million. 
Mariota, who spent last season with the Atlanta Falcons, is expected to serve as the backup to Jalen Hurts. He joins a quarterback room that is currently made up of Hurts and Ian Book. 
Mariota was released by the Falcons last month after signing a $10.5 million, two-year deal with Atlanta last offseason.
He went 5-8 as a started in Atlanta before rookie Desmond Ridder took over for the final four games. 
Mariota completed 184 of 300 passes for 2,219 yards with 15 touchdowns and nine interceptions. He rushed for 438 yards and four touchdowns.
After Mariota was benched, he left the team to have season-ending knee surgery. 
Mariota, 29, began his career with the Tennessee Titans, who selected him with the second pick in the 2015 NFL Draft. According to reports, then-Eagles coach Chip Kelly tried desperately to trade up and select Mariota in the draft, but a deal was never made. 
Securing the Secondary
The Eagles also reportedly agreed to a deal with former Browns cornerback Greedy Williams. Williams, a 25-year-old former second-round pick out of LSU, started 21 games in his first three seasons in Cleveland. 
Williams will bring youth and experience to a defensive backfield that already includes Darius Slay and James Bradberry, who both got new deals with the Eagles this offseason, as well as Avote Maddox and Zech McPhearson.
The team lost safety Marcus Epps to the Raiders in free agency, and are reportedly still working on retaining free agent safety CJ Gardner-Johnson. 
Stability in the Trenches
Howie Roseman and the Eagles front office spent the early part of the NFL's free agency period locking up some fan favorites. 
Center Jason Kelce opted to put off retirement and agreed to a new deal that would make him the highest paid center once again this upcoming season.
On the defensive line, Brandon Graham decided to stay in Philly on a one-year-deal, despite reported interest from other teams. Graham remains the longest tenured Eagle, having played 178 games with the Birds since being drafted 13th overall out of the University of Michigan in the 2010 Draft. 
Longtime Eagles defensive tackle Fletcher Cox also opted to stay put on a one-year deal, despite reports that he received more lucrative offers to move on. 
Changes at Running Back
Boston Scott, known to most Eagles fans as the 'Giant Killer,' will return for a fifth season in midnight green after reportedly agreeing to a one-year deal. 
He'll have a new face with him in the backfield after the Eagles signed former Seahawks back Rashaad Penny. 
A first-round pick by Seattle in the 2018 draft, Penny has been slowed by injuries throughout his career. He was limited to six games last season because of a broken fibula. He tore his ACL in 2019 and played just three games in 2020.
Penny's most productive season was 2021, when he ran for a career-best 749 yards with six touchdowns and led the NFL with an average of 6.3 yards per carry. He rushed for 349 yards last season, with an average of 6.1 per carry. Penny's career average is 5.7 yards per carry.
Penny's signing signaled the end of Miles Sanders time in Philadelphia, and he later agreed to a deal with the Carolina Panthers. 
Key Departures
So far, most of the key departures for the Eagles have come on the defensive side of the ball. Javon Hargrave, Marcus Epps, TJ Edwards, and Kyzir White were all starters for the Eagles last season, and all of them have found new homes. 
On offense, Sanders, eserve offensive lineman Andre Dillard, and backup QB Gardner Minshew have all moved on.