Tips to avoid aggressive drivers amid troubling uptick in road rage incidents
PHILADELPHIA - Police and Pennsylvania transportation authorities are reminding drivers to control their emotions behind the wheel amid an uptick in instances of violent road rage. 
"Everybody loses their cool sometimes, and we've seen an increase in road rage incidents since the start of the pandemic," Philadelphia Police Sergeant Eric Gripp said.
In the last two weeks, authorities in Philadelphia have investigated two suspected road rage shootings on I-95. 
A motorcycle-driving gunman who police say peppered a van with bullets in late April is still being sought. On Monday, a minivan driver was grazed by a bullet fired from another car. 
MORE LOCAL HEADLINES
"What we don't want people to do is to pull over," Gripp said. "That could be dangerous depending on the road you are on, and the person might see you pull over and see that as a challenge."
Data collected by the advocacy group Everytown for Gun Safety shows 550 people were shot in road rage incidents across the country last year, double the amount from 2018.
The Pennsylvania Department of Transportation encourages motorists who encounter an aggressive driver to safely avoid them, stay relaxed, and avoid eye contact or rude gestures. 
Motorists who are moving slower are told by the department to avoid driving in the passing lane.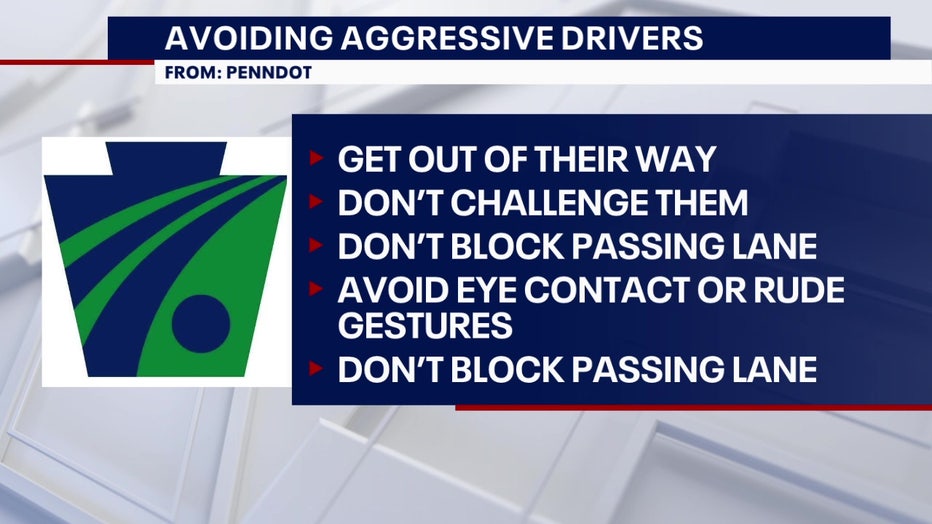 Some drivers who spoke to FOX 29's Chris O'Connell said sometimes the advice is easier said than done. 
"My girlfriend can attest, I do not prevent, and I get very angry about it and I keep it going," one driver said. "It's not a smart idea and I don't recommend it." 
Others, however, smartly aren't taking any chances. 
"I don't argue, there's to many people, 9 out of 10 people have a weapon," Khabir Slaughter said.